Security for Hybrid Workplaces
Sarah E. Rogers
July 5, 2023
In recent years, an increasing number of companies have embraced the concept of remote work or hybrid workplaces in order to retain top talent and enhance employee satisfaction. While these options offer numerous advantages, they also present security obstacles. Two primary concerns arise: first, ensuring appropriate individuals are present in the correct locations at the designated times, and second, safeguarding against potential data breaches.
This article will delve into various approaches that can assist businesses in securing hybrid
workplaces and provide them with effective tools to overcome these challenges. As organizations have fewer security team members on-site, they are exploring innovative methods to monitor the movement of individuals within their facilities. They not only require real-time data collection regarding who is present in the building but also need mechanisms to respond if employees are found in restricted areas or if they are on-site during unscheduled hours.
Access Control
The first line of defense for securing the hybrid workplace is ensuring all entry points are protected by an access control device. This consists of perimeter entrances and exits but may also include interior doors, especially for restricted areas or locations that house sensitive data.
With an access control system in place, you can provide additional capabilities to enhance your customers' security measures and generate additional RMR for your business. One option that is growing in popularity is the use of biometrics to verify employees' identities. While high security government locations and financial institutions have lead the way in this area, a variety of other
industries including healthcare, education and oil and gas-related sites are starting to show more interest in this technology.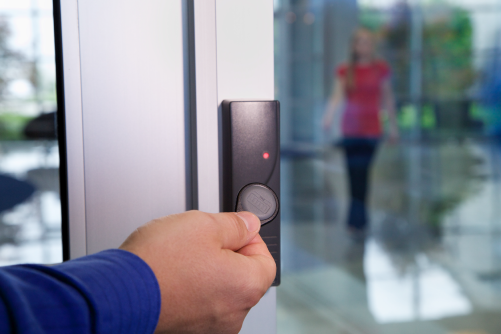 Video Integration
Another solution proving valuable for a hybrid workplace is video integration. While using video has long been used for access control and intrusion events, its use in the convergence of cyber
and physical security is powerful for companies operating in a hybrid work model. Some companies are integrating their security cameras to verify employee identity before granting access to secure data storage.
Schedules
Once your customers can ensure the right people are accessing the appropriate areas of their businesses they need to need the ability to control when employees are authorized to enter and exit. A significant number of access control systems today provide the ability to set schedules as part of a user's profile. The use of schedules is instrumental to ensuring people are not taking advantage of a reduced on-site monitoring to use off-hours for unauthorized activities. When working with a customer with a hybrid workforce, increase your value by helping them incorporate schedules as part of their user credentials SOPs.
Cloud Technology
A driving force behind successful security measures in a hybrid work environment is
cloud technology. Two key areas to consider are access control and system maintenance. A cloud-based access control management tool ensures that security professionals working from home can perform instant credential or system changes without being on-site.
The ability to download and install system and firmware updates from any browser is critical in helping your customers protect against data breaches due to a lack of device management. The number of incidents has increased as more companies offer employees the option to work remotely and have cost companies billions of dollars.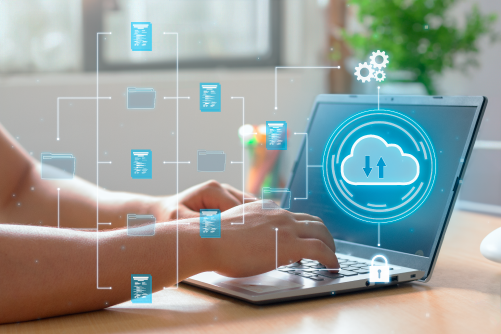 Mobile Credentials
Employees who have become accustomed to working remotely may forget or misplace their key cards or fobs used to gain entry to their worksite. The use of smartphone and Bluetooth credentials can be a great option for access control in the hybrid work model. Not only will it eliminate the cost of reissuing physical credentials, since most people always have their cell phones with them, it enhances the employee's experience. In addition, mobile credentials are less likely to be shared or stolen.
Partnering with DMP on Security Solutions for Hybrid Workplaces
As a DMP dealer you can feel confident in your ability to provide solutions to your customers looking for security support in a hybrid work environment. Offer a cloud-based system management tool which provides best-in-class remote management of their systems, users and schedules as well as customized real-time reporting. Deliver industry leading video integration featuring patent-pending technology that seamlessly connects cameras, analytics and XR Series™ control panels to trigger panel responses or alarms in real time. Furnish Bluetooth credentials that help reduce costs and increase employee satisfaction.
Want to read more content like this?
With new articles posted every two weeks, you are sure to find articles and content that will help identify industry trends, new products and helpful business tips.