Users With More than One Dealer Now Have Access to All Their Systems in Virtual Keypad With One Login


Virtual Keypad users especially appreciate being able to manage their security systems wherever they are. With this release, systems across more than one dealer can be just as easy to manage — now those customers can access all of their systems with just one email and password.

What does this mean for your customers?
When your customers log in, they'll see a list of all their systems, then click on the one they want to open. It's that easy. Even if a customer's email already exists with a system that's managed by another dealer, now you can add that email to the system you manage and the customer has access to both, using just one login.

Imagine you have a customer with a home alarm system in your local area. This customer also owns a vacation home in Florida with an alarm system monitored by a DMP dealer in that area. Now, your customer can access both systems from a single login.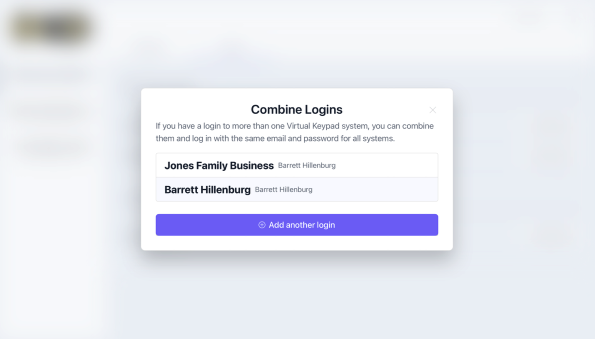 But what about users with multiple logins? Virtual Keypad's new Combine Login feature allows customers to use a single email and password login to access all their systems.

What does this release mean for you?
Like today, when you or your customers create new app users, our standard "welcome" email is automatically sent to them with a link to finish setting up their accounts. Likewise, when users select the Forgot Password option, they'll receive an email with a link to reset their passwords. This means your customers are in control of their own passwords and can make them whatever they want.
For more information or questions, please contact one of our Inside Sales representatives at InsideSales@DMP.com or 877-757-4367 or one of our Technical Support representatives at TechSupport@DMP.com or 888-4-DMP-TEC (888-436-7832).